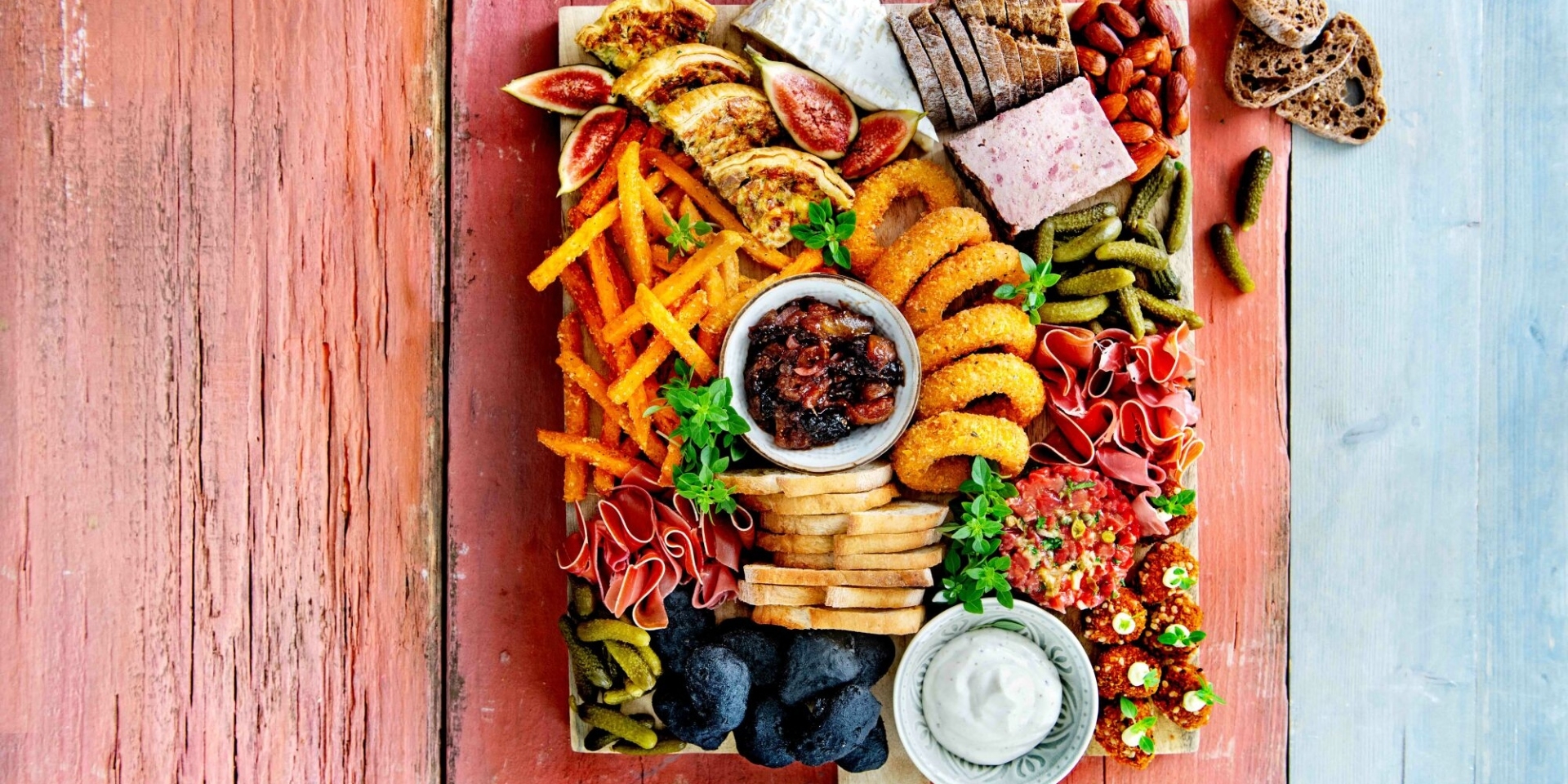 Chic Charcuterie sharing platter
Elevate your guests dining experience with our Chic Charcuterie and Gourmet Snack Sharing Platter, a tantalizing masterpiece designed to delight the senses.
Ingredients chic charcuterie (4 servings)
300 g Sweet Potato Fries
1 serving of steak tartare*
1 portion sourdough toast*
50 g raw ham
75 g (farmhouse) pâté
100 g brie
1 chilled mini quiche
2 fresh figs
50 g cornichons
Sauces
50 g truffle mayonnaise
1 portion of fig chutney*
1 portion tarragon cream*
Preparation method
Steak tartare - 4 portions
Cut 500 g of tenderloin into tiny cubes no larger than 3 mm.
For the dressing, mix 2 egg yolks with 1 teaspoon fine mustard. Whisk in 6 tablespoons of extra virgin olive oil. Spoon in 1 small finely chopped shallot, 1 finely chopped small (sweet) sour gherkin, 2 teaspoons coarsely chopped capers and 1 sprig of finely chopped parsley.
Keep the dressing and the steak tartare covered in the fridge. Just before serving, top the steak tartare with the dressing and season with salt and pepper.
Sourdough toast - 4 portions
Preheat the oven to 200 ºC. Cut thin slices from 1 sourdough baguette and place on a baking tray. Drizzle the bread slices with a little olive oil.
Toast the bread in the preheated oven for 8 minutes until golden brown and crispy. Store the toast in an airtight container.
Fig chutney - 4 portions
Cut 500 grams of fresh figs and 100 grams of dried figs and prunes into small pieces.
Bring the figs with the dried prunes or figs, 200g sugar, 150ml white balsamic vinegar, 2 finely chopped shallots, 1 teaspoon ground cinnamon and the leaves of 5 sprigs of thyme to the boil.
Turn down the heat to low and let the chutney reduce to jam thickness in 30-45 minutes. Spoon the chutney into a clean jar, leave to cool and store in the fridge.
Dragon cream - 4 portions
Puree in a food processor or with a hand blender the leaves of 2-3 tarragon sprigs with 200 g mayonnaise. Store the tarragon cream in a clean jar in the fridge. Pipe a dot of tarragon cream on each Chicken pop and garnish with cress.